The UK economy cannot afford the wastage in talent
Thu, 04/05/2012 - 2:24am
Comments
by Royal Society of Chemistry
04 April 2012
The UK economy cannot afford the wastage in talent that comes when women in science, technology, engineering and maths (STEM) careers leave their profession prematurely, according to a new report.
Tapping all our Talents says that "expensively trained women are lost in larger proportions than men at every step of the postgraduate ladder and are under-represented in top positions across the spectrum of business, public service and academia."
Professor Lesley Yellowlees, President-Elect of the Royal Society of Chemistry who gave oral evidence to the report committee, said although the role of young women in chemistry finally parallels that of men in terms of the A-level gender balance, a lot more work needed to be done further up the ladder to translate the report's recommendations into practice.
The report, published by The Royal Society of Edinburgh, says that the loss of highly-trained women from the workforce coincides with "near recession conditions" with science and technology companies unable to find sufficient skilled and experiences workers.
It recommends both the Scottish and UK governments introduce flexible working hours and extending existing parental leave legislation, while calling on funders of universities to link funding to gender equality. 
In its written evidence to the RSE, the Royal Society of Chemistry said the culture and processes in the STEM workplace must change to bring down the potential barriers adversely affecting women representation. Some of these include recruitment practices that are biased towards the appointment of males by males and a perceived "macho" culture of workplaces.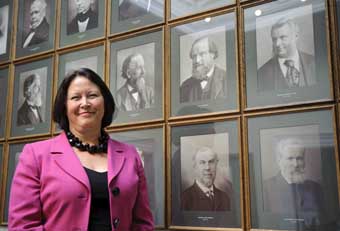 Professor Yellowlees at Burlington House, London, in front of past presidents of the RSC 
Professor Yellowlees added: "Women in STEM academic positions at senior level are clearly few and far between, but the numbers are improving. A lot has been done, but there is still a lot to do - especially to ensure all our young female chemists coming through have sufficient female role models to look up and aspire to. There is a lot of talent to be tapped there.  
"If the initiatives recommended in this report are carried out, I have no doubt that Scotland and the rest of the UK will soon become one of the best places in the world to work for women in science and technology and we will have gone a long way to fixing the under-representation of women in science. 
"As the report shows, it has been estimated that increasing women's participation in the UK labour market could be worth between £15bn and £23bn, with STEM accounting for at least £2bn of this."  
Five to 10 year targets outlined in the report include bringing down the percentage of women STEM graduates leaving the sector ensuring it is comparable to that of men, getting the percentage of women in the STEM workforce comparable across all levels of seniority and that women receive the same pay as their male counterparts.